Drinking games can be a lot of fun as we can all attest to. There already exists a Tipsy Tower, which is like a Jenga-like game that has drinking rules written on each piece that you pull from the tower. But, in case you were wondering how to take it to the next level, we have just the perfect news for you. Similar to the Tipsy Tower, there is another game on the market, but instead of rules, it hides secret Jello shots inside random pieces. Yes, you read that right.
This drinking game can be played anywhere. From backyard BBQ parties to general get-togethers, this is a fun game to be had with groups of people. It is called the Little Tipsy Jello Shot Towers, and it is wonderful. The rule is very simple; if you pull out a wooden slab, and it has a Jello shot inside it, you have to take it.
According to the Amazon product description, "The set includes: 54 natural, sanded 10.5" blocks - with 15 spots to hide away Jello shots, 50 2 oz. Jello shot cups with lids and laminated rules and recipe card. It stands 27" tall. "
Created by StonePointWoodwork and sold on Etsy, this tower game comes in two versions. In one version, some have double jello shots in select Jenga blocks. In the other, there is only a single shot of Jello nestled in random wooden slabs. In addition, the game features two different sizes namely the blocks that measure 10.5-inches and the smaller version measures 7.5-inches. These towers are exquisitely hand made and comprise 54 wooden blocks. If you opt for the smaller version, you will receive 25, 1-ounce jello shot cups, but if you buy the larger version, you will get 50 cups. Additionally, it comes with recipes in the event that you haven't made jello shots before.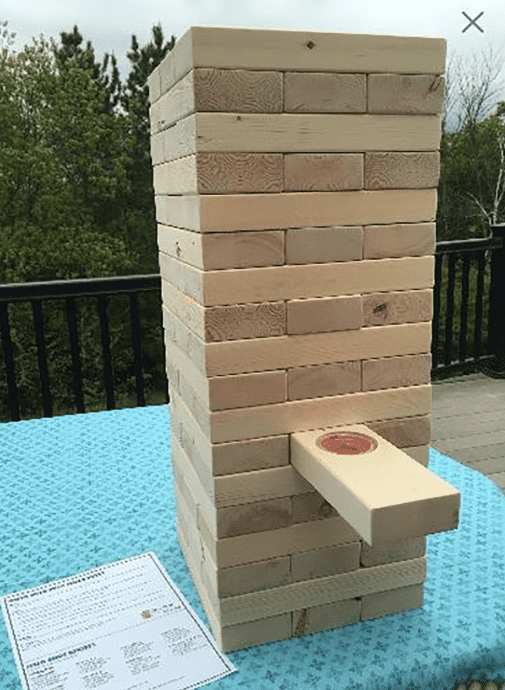 Once stacked, the tower stands at a respectable height of 27-inches. What's more, you can even get it customized to your liking, if you're looking to place more Jello shots. The Little Tipsy Jello Shot Towers retails for $230 on Etsy.